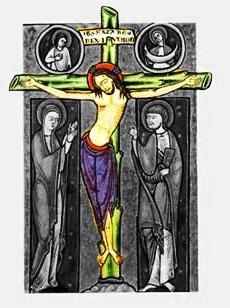 Y tanto dolor...
... y pasión, eterna pasión.
Chorus I
Kommt, ihr Töchter, helft mir klagen,
Sehet—(Chorus II) Wen?—(Chorus I) den Bräutigam,
Seht ihn—(Chorus II) Wie?—(Chorus I) als wie ein Lamm!

Chorale
O Lamm Gottes, unschuldig
Am Stamm des Kreuzes geschlachtet,
Sehet,—Was?—seht die Geduld,
Allzeit erfunden geduldig,
Wiewohl du warest verachtet.
Seht—Wohin?—auf unsre Schuld;
All Sünd hast du getragen,
Sonst müßten wir verzagen.
Sehet ihn aus Lieb und Huld
Holz zum Kreuze selber tragen!
Erbarm dich unser, o Jesu !


Chorus I
Come, ye daughters, share my mourning,
See ye—(Chorus II) whom?—(Chorus I) the bridegroom there,
See him—(Chorus II) how?—(Chorus I) just like a lamb!

Chorale
O Lamb of God, unspotted
Upon the cross's branch slaughtered,
See ye,—what?—see him forbear,
Alway displayed in thy patience,
How greatly wast thou despisèd.
Look—where, then?—upon our guilt;
All sin hast thou born for us,
Else we had lost all courage.
See how he with love and grace
Wood as cross himself now beareth!
Have mercy on us, O Jesus!
Escuchando
La Pasión según San Mateo
de
J. S. Bach